ceramic bearing related models
There is only a part of our ceramic bearing models, all specification of ceramic bearing can be customized
in our factory. If you have any requirements, please contact me in mail:[email protected]
| | | | | |
| --- | --- | --- | --- | --- |
| NEW MODEL NO. | OLD MODEL NO. | ID(mm) | OD(mm) | H(mm) |
| 6322-2RZ | 180322K | 110 | 240 | 50 |
| 6312-2RS | 180312 | 60 | 130 | 31 |
| 6311-2RS | 180311 | 55 | 120 | 29 |
| 6310-2RS | 180310 | 50 | 110 | 27 |
| 6309-2RS | 180309 | 45 | 100 | 25 |
| 6308-2RS | 180308 | 40 | 90 | 23 |
| 6307-2RS | 180307 | 35 | 80 | 21 |
| 6306-2RS | 180306 | 30 | 72 | 19 |
| 6305-2RS | 180305 | 25 | 62 | 17 |
| 6304-2RS | 180304 | 20 | 52 | 15 |
| 6303-2RS | 180303 | 17 | 47 | 14 |
| 6216-2RS | 180216 | 80 | 140 | 26 |
| 6215-2RS | 180215 | 75 | 130 | 25 |
| 6214-2RS | 180214 | 70 | 125 | 24 |
| 6213-2RS | 180213 | 65 | 120 | 23 |
| 6212-2RS | 180212 | 60 | 110 | 22 |
| 6211-2RS | 180211 | 55 | 100 | 21 |
| 6210-2RS | 180210 | 50 | 90 | 20 |
| 6209-2RS | 180209 | 45 | 85 | 19 |
| 6208-2RS | 180208 | 40 | 80 | 18 |
| 6207-2RS | 180207 | 35 | 72 | 17 |
| 6206-2RS | 180206 | 30 | 62 | 16 |
| 6205-2RS | 180205 | 25 | 52 | 15 |
| 6204-2RS | 180204 | 20 | 47 | 14 |
| 6203-2RS | 180203 | 17 | 40 | 12 |
| 6202-2RS | 180202 | 15 | 35 | 11 |
| 6201-2RS | 180201 | 12 | 32 | 10 |
| 6200-2RS | 180200 | 10 | 30 | 9 |
| 629-2RS | 180029 | 9 | 26 | 8 |
| 627-2RS | 180027 | 7 | 22 | 7 |
| | | | | |
| --- | --- | --- | --- | --- |
| NEW MODEL NO. | OLD MODEL NO. | ID(mm) | OD(mm) | H(mm) |
| 2219K | 111519 | 95 | 170 | 43 |
| 2218K | 111518 | 90 | 160 | 40 |
| 2217K | 111517 | 85 | 150 | 36 |
| 2216K | 111516 | 80 | 140 | 33 |
| 2215K | 111515 | 75 | 130 | 31 |
| 2214K | 111514 | 70 | 125 | 31 |
| 2213K | 111513 | 65 | 120 | 31 |
| 2212K | 111512 | 60 | 110 | 28 |
| 2211K | 111511 | 55 | 100 | 25 |
| 2210K | 111510 | 50 | 90 | 23 |
| 2209K | 111509 | 45 | 85 | 23 |
| 2208K | 111508 | 40 | 80 | 23 |
| 2207K | 111507 | 35 | 72 | 23 |
| 2206K | 111506 | 30 | 62 | 20 |
| 2205K | 111505 | 25 | 52 | 18 |
| 2204K | 111504 | 20 | 47 | 18 |
| 1322K | 111322 | 110 | 240 | 50 |
| 1321K | 111321 | 105 | 225 | 49 |
| 1320K | 111320 | 100 | 215 | 47 |
| 1319K | 111319 | 95 | 200 | 45 |
| 1318K | 111318 | 90 | 190 | 43 |
| 1317K | 111317 | 85 | 180 | 41 |
| 1316K | 111316 | 80 | 170 | 39 |
| 1315K | 111315 | 75 | 160 | 37 |
| 1314K | 111314 | 70 | 150 | 35 |
| 1313K | 111313 | 65 | 140 | 33 |
| 1312K | 111312 | 60 | 130 | 31 |
| 1311K | 111311 | 55 | 120 | 29 |
| 1310K | 111310 | 50 | 110 | 27 |
| 1309K | 111309 | 45 | 100 | 25 |
| | | | | |
| --- | --- | --- | --- | --- |
| NEW MODEL NO. | OLD MODEL NO. | ID(mm) | OD(mm) | H(mm) |
| UEL 202 | 39502 | 15 | 40 | 37.3 |
| UE 212 | 390212 | 60 | 110 | 53.1 |
| UE 211 | 390211 | 55 | 100 | 48.4 |
| UE 210 | 390210 | 50 | 90 | 43.7 |
| UE 209 | 390209 | 45 | 85 | 43.7 |
| UE 208 | 390208 | 40 | 80 | 43.7 |
| UE 207 | 390207 | 35 | 72 | 38.9 |
| UE 206 | 390206 | 30 | 62 | 35.7 |
| UE 205 | 390205 | 25 | 52 | 31.5 |
| UE 204 | 390204 | 20 | 47 | 31 |
| UE 203 | 390203 | 17 | 40 | 28.6 |
| UE 202 | 390202 | 15 | 40 | 28.6 |
| UE 201 | 390201 | 12 | 40 | 28.6 |
| UC 328 | 90628 | 140 | 300 | 145 |
| UC 326 | 90626 | 130 | 280 | 135 |
| UC 324 | 90624 | 120 | 260 | 126 |
| UC 322 | 90622 | 110 | 240 | 117 |
| UC 321 | 90621 | 105 | 225 | 112 |
| UC 320 | 90620 | 100 | 215 | 108 |
| UC 319 | 90619 | 95 | 200 | 103 |
| UC 318 | 90618 | 90 | 190 | 96 |
| UC 317 | 90617 | 85 | 180 | 96 |
| UC 316 | 90616 | 80 | 170 | 86 |
| UC 315 | 90615 | 75 | 160 | 82 |
| UC 314 | 90614 | 70 | 150 | 78 |
| UC 313 | 90613 | 65 | 140 | 75 |
| UC 312 | 90612 | 60 | 130 | 71 |
| UC 311 | 90611 | 55 | 120 | 66 |
| UC 310 | 90610 | 50 | 110 | 61 |
| UC 309 | 90609 | 45 | 100 | 57 |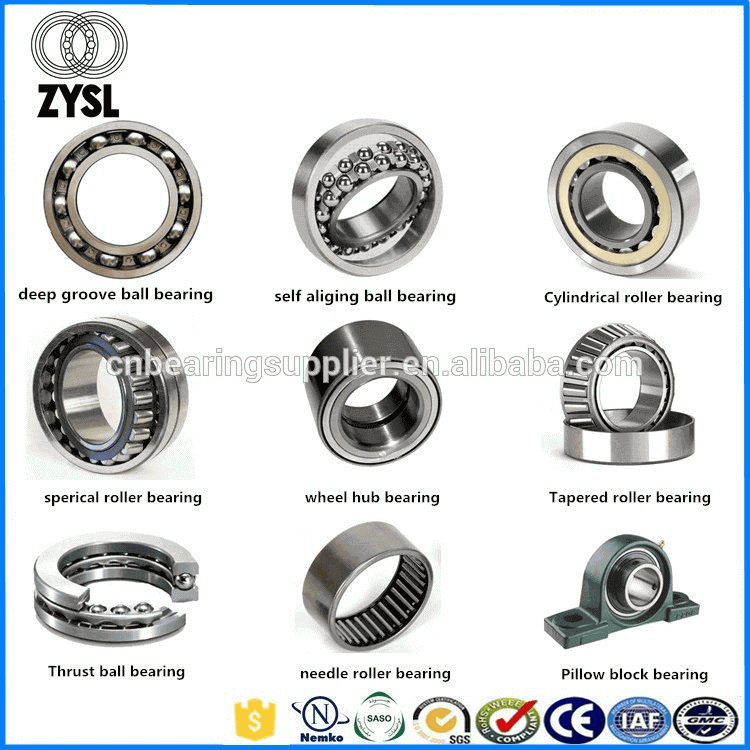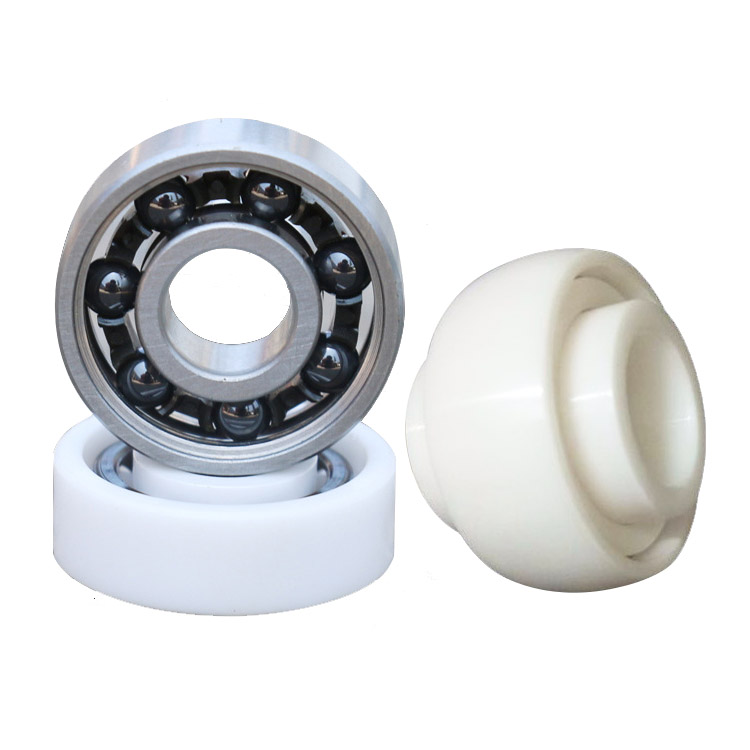 Material and types of our ceramic bearing:
1.chrome steel hybrid ZrO2 ceramic bearing.
2.chrome steel hybrid Si3N4 ceramic bearing.
3.stainless steel hybrid ZrO2 ceramic bearing.
4.stainless steel hybrid Si3N4 ceramic bearing.
5.ZrO2 ceramic hybrid Si3N4 ceramic bearing.
6.Full ZrO2 ceramic bearing.
7.Full Si3N4ceramic bearing.
All types of ceramic bearing can be customized in our factory.
Full ceramic bearing and hybrid ceramic bearing introduction:
Full ceramic bearing has the characteristics of anti-magnetic insulation, abrasion resistant,oil-free self-lubricating and enduring extreme high or low temperature, so they can be used for harsh environment and even under some special condition. The material of rings and rollers is jar gonia(ZrO2) and the holder uses poly back fluoride(PTFE) as standard configuration. Generally, we can use the reinforced nylon made of glass fiber 66(GRPA66-25), special engineering plastics
(PEEK, PI), nonrust steel(AISI SUS316 SUS304), brass(Cu) and so on. Ceramic deep groove ball bearings are made entirely of ceramic material and are superior to common Steel Angular Contact Bearings in many ways. Ceramic is the perfect material for any application seeking to achieve higher RPM's, reduce overall weight or for extremely harsh environments where high temperatures and corrosive substances are present.
The advantages of ceramic bearing:
1) The ceramic bearing has the feature of corrosion resistance, the ceramic rolling bearing suitable for operation under harsh conditions covered corrosion media.
2) Since the ceramic ball rolling has lower density than steel, so which is much lighter, so when you rotate the outer ring centrifugal effect can be reduced by 40% , thus greatly extended service life.
3) The expansion and contraction of the ceramic affected smaller than steel, and therefore the gap of the bearing is constant, the bearing allows the temperature changes more severe environment.
4) As the ceramic has higher modulus of elasticity than steel, when the force is not easy deformation, and therefore help to improve the operating speed and achieve high accuracy.
Applications:
1) Power Tools
2) Fans
3) Washing Machines
4) Pumps
5) Electric Motors
6) Sport Apparaus
7) Textile Machined
8) Skateboard Skate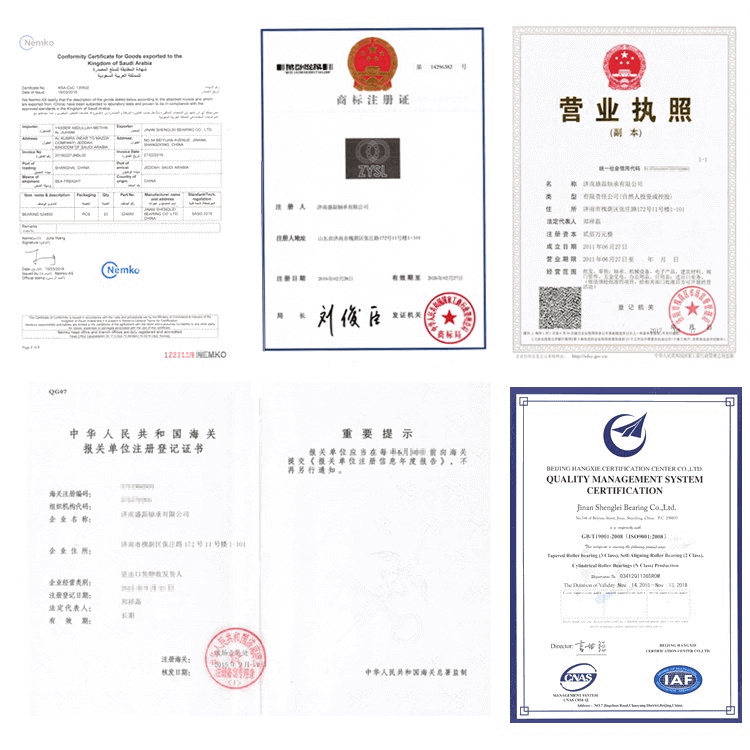 FAQ of ceramic Bearings catalogue:
Q: What kind of bearings you supplied?
A: We supply all specification of bearings:deep groove ball bearings ----
tapered roller bearings----- cylindrical roller bearings ----Spherical Roller Bearings
----- angular contact bearings - - thrust roller bearings ----thrust ball?bearings----
spherical bearings -needle roller bearings----pillow block bearings----sliding guid bearings
----wheel hub bearings and high-precision low-noise high-speed operation of special bearings.
We also agent and supply all world famous brands of bearings.
Non-standard bearings can be produced according to your drawing in our factory.
Q: When selecting bearings, what should we need to consider?
A: The precision of the bearings (dimension tolerance, loading rate), internal
clearance and hardness under?heat treatment, structure of cage and material.
Q:The advantage of ceramic bearing?
A:
(1) reduce friction and wear.
To prevent metal contact and reduce friction and wear in the contact part of the bearing ring,
rolling body and maintainer.
(2) prolong fatigue life.
The rolling fatigue life of the bearing, in the rotation, the rolling contact surface lubrication good,
then extended. Conversely, the oil viscosity is low, the lubricating film thickness is not good,
then shortened.
(3) exhaust friction heat and cooling.
The circulation to oil method can be used to exhaust the heat generated by friction, or from external
heat, cooling. Prevent the bearing from overheating and prevent the lubricating oil from ageing itself.
Q:Application area of ceramic bearing?
It can cover almost all mechanical industries, including robotic systems, lathes, tools, automobiles, large equipment, and so on.
Q: Can I have a?sample order in ceramic bearing?
A: Yes, we welcome sample order to test and check quality. Mixed samples are acceptable.
Q: What about the ceramic bearings lead time?
A:Sample needs 3-7 days, mass production time needs 3-4 weeks.
Q:What is your payment method?
A: We accept T/T, PAYPAL or Western Union, credit card.
If you need the ceramic bearing or any other bearings,please contact me!
Contact: Miya
Email: [email protected]
Skype: [email protected]

MP/Whatsapp: +86 18363031398