ZYSL hub auto bearing DAC49840048 wheel hub bearing DAC49840048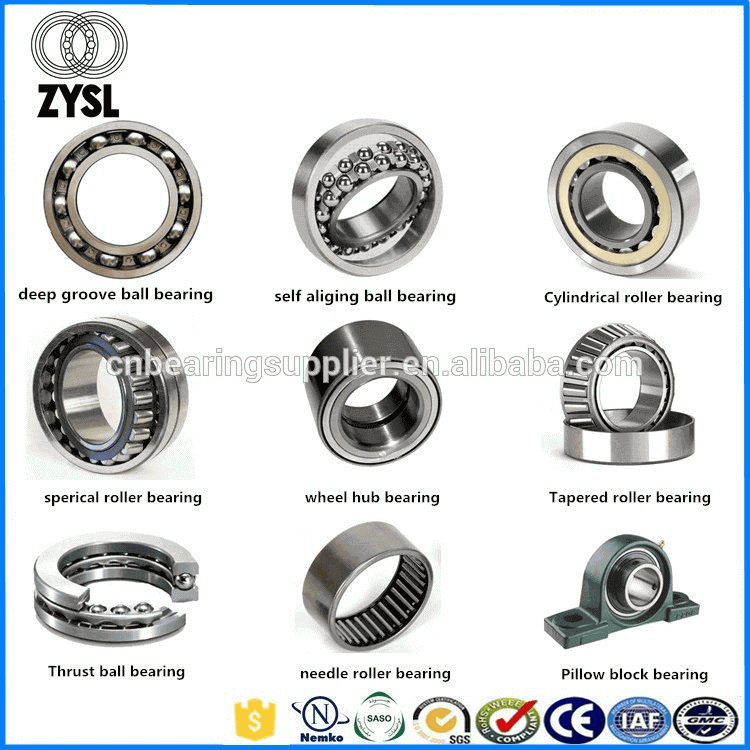 The related models of hub auto bearing DAC49840048
Bearing  No.

GERMANY

SWEDEN

JAPAN

Dimension(mm)

Weight   

(kg)

d1

D

B

C

DAC255200206 

 565592 

 

 

 25 

 52 

 20.6 

 20.6 

 0.19 

DAC25520037 

156704 

 

 

25 

52 

37 

37 

0.31 

DAC25520042 

 

617546A 

25BWD01 

25 

52 

42 

42 

0.36 

DAC25520043 

546467/

576467 

BT2B4455

39AA 

 

25 

52 

43 

43 

0.36 

DAC25550043 

 

 

 

25 

55 

43 

43 

0.44 

DAC25560032 

445979 

BAH5000 

 

25 

56 

32 

32 

0.34 

DAC29530037 

801023AB 

 

 

29 

53 

37 

37 

0.35 

DAC30600037 

 

 

 

30 

60 

37 

37 

0.42 

DAC30600337 

529891AB 

BA2B6333

13CA 

30BWD07 

30 

60.3 

37 

37 

0.42 

DAC30600337 

545312/

581736 

434201B/

VKBA1307 

30BWD07 

30 

60.3 

37 

37 

0.42 

DAC34620037 

531910/

561447 

BAHB311

316B/309724 

 

34 

62 

37 

37 

0.41 

DAC34640034 

 

VKBA1382 

34BWD03/

ACA78 

34 

64 

34 

34 

0.43 

DAC34640037 

532066DE 

605214/

VKBA1306 

34BWD04/

BCA70 

34 

64 

37 

37 

0.47 

DAC34640037 

540466B/

805231 

BA2B309726 

34BWD11 

34 

64 

37 

37 

0.47 

DAC34660037 

559529/

580400CA 

636114A/

479399 

34BWD10B 

34 

66 

37 

37 

0.5 

DAC35640037 

 

BAH0042 

 

35 

64 

35 

35 

0.4 

DAC35650035 

546238A 

BA2B443952/

445620B 

 

35 

65 

35 

35 

0.4 

DAC35650037 

 

 

35BWD19E 

35 

65 

37 

37 

0.51 

DAC35660032 

 

445980A/

BAH-5001A 

 

35 

66 

32 

32 

0.42 

DAC35660033 

 

633676/BAH-0015 

 

35 

66 

33 

33 

0.43 

DAC35660037 

544307C/

581010A 

311309/BAH-0023 

 

35 

66 

37 

37 

0.48 

DAC35680037 

430042C 

633528F/

633295B 

35BWD21

(4RS) 

35 

68 

37 

37 

0.52 

DAC35680037 

541153A/

549676 

BAH0031 

 

35 

68 

37 

37 

0.52 

DAC35720033 

548083 

BA2B445

535AE 

XGB 40714 

35 

72 

33 

33 

0.58 

DAC35720033 

548033 

456162/

44762B 

XGB 40714 

35 

72 

33 

33 

0.58 

DAC35720433 

 

BAHB633669/

BAH0013 

 

35 

72.04 

33 

33 

0.58 

DAC35720233/31 

562686 

VKBA1343 

35BWD06A

CA111 

35 

72.02 

33 

31 

0.54 

DAC35720034 

540763/

548376A 

VKBA857 

35BWD01C 

35 

72 

34 

34 

0.58 

DAC35770042 

 

VKBA3763 

 

34.99 

77.04 

42 

42 

0.86 

DAC37720033 

 

BAH0051B 

 

37 

72 

33 

33 

0.51 

DAC37720037 

 

BAH0012

AM5S 

 

37 

72 

37 

37 

0.59 

DAC37720237 

527631 

633028CB 

 

37 

72.02 

37 

37 

0.59 

DAC37740045 

541521C 

309945A 

37BWD01B 

37 

74 

45 

45 

0.79 

DAC38700037 

ZFRTBRG

HOO37 

BAHB636

193C 

 

38 

70 

37 

37 

0.56 

DAC38700038 

 

686908A 

38BWD31

CA53 

38 

70 

38 

38 

0.57 

DAC38710033/30 

 

FW135 

38BWD09A

CA120 

37.99 

71.02 

33 

30 

0.5 

DAC38710039 

 574795A 

VKBA3929 

30BWD22 

37.99 

71 

39 

39 

0.62 

DAC38720036/33 

  

 

30BWD12 

38 

72 

36 

33 

 

DAC38720040 

575069B 

VKBA1377 

 

38 

72 

40 

40 

0.63 

DAC38730040 

  

VKBA3245 

38BWD26E 

38 

73 

40 

40 

0.67 

DAC38740036/33 

 574795A 

DAD3874

368W 

38BWD01A

CA121 

38 

74 

36 

33 

0.61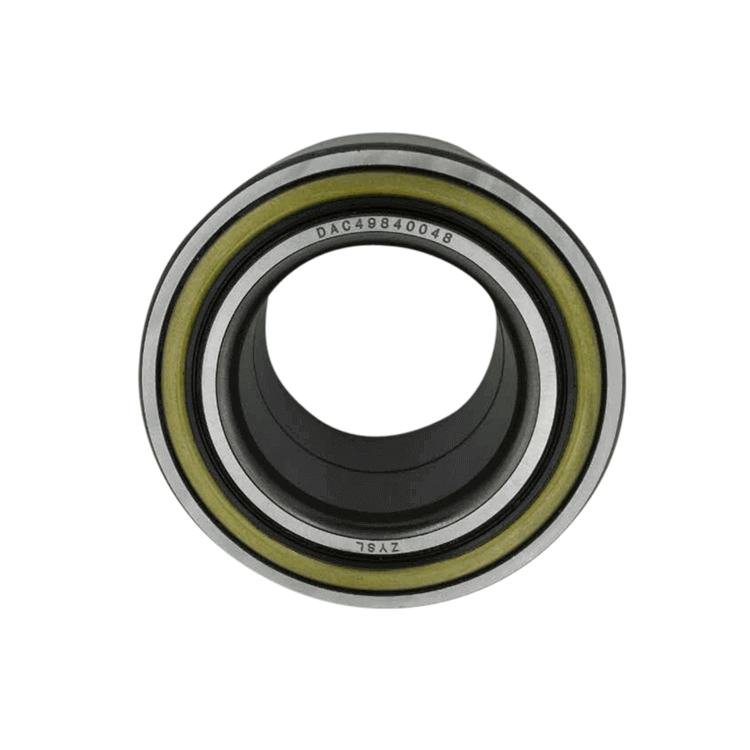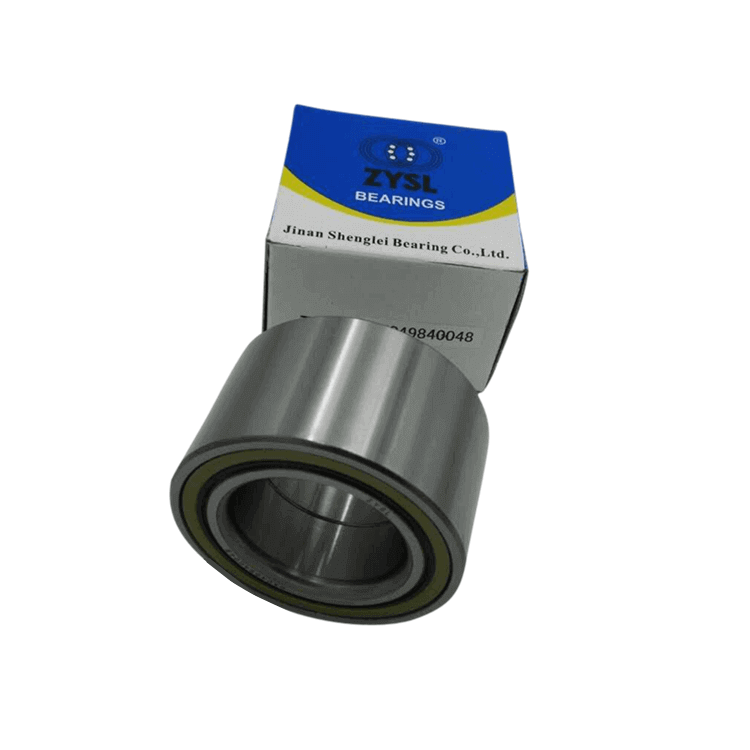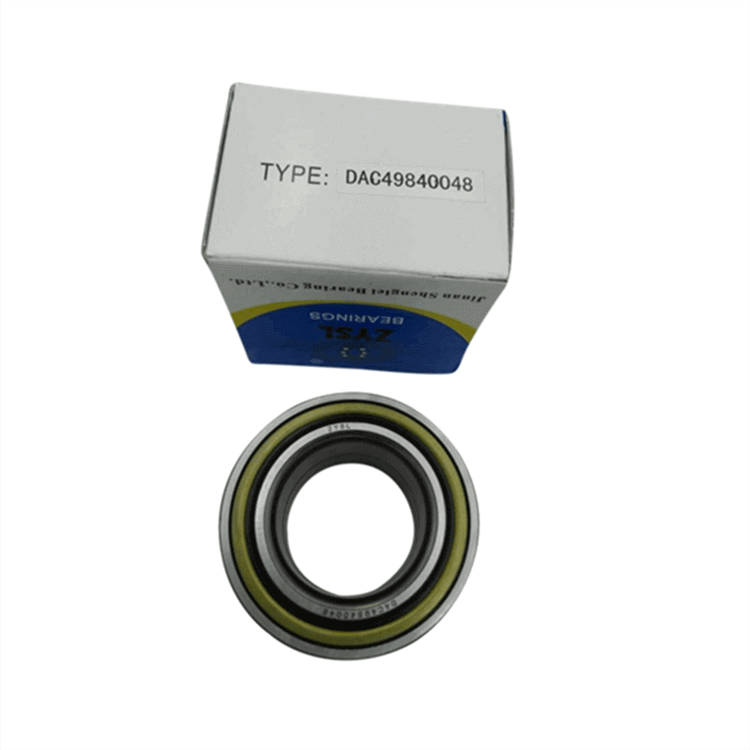 Description of  hub auto DAC49840048  
ZYSL hub auto bearing DAC49840048 wheel hub bearing DAC49840048 is the main purpose of bearing and to provide accurate guide to the rotation of the wheel hub, it is under axial load and radial load, is a very important component.It is developed on the basis of standarded angular contact ball bearings and tapered roller bearings.
Greased and sealed for life, the first generation wheel hub bearing DAC3060037 cuts installation time and virtually eliminates problems caused by improper seal handling and bearing clearances. It is often equipped with a seal, on one side of the bearing unit, including an integrated magnetised ABS impulse wheel.
Application of hub auto DAC49840048  
ZYSL hub auto bearing DAC49840048  hub auto bearing DAC49840048 have taper roller bearings and angular contact ball bearings,single row and double row taper roller usually use in front wheel hub bearings. Car wheel bearings installed in the car wheel hub unit,it is aim to improve the wheel bearing performance,wheel bearings from the early two single row taper roller bearings developed to double row taper roller bearings and double row angular contact ball bearing,but also from a simple bearing development in the core of the bearing hub bearing units. Other double row taper roller bearings use in cars and any other machinery
Widely used in car, vehicle, automobile cooling water pump, in textile machinery, engineering machinery, etc.
ZYSL hub auto bearing DAC49840048 wheel hub bearing DAC49840048

P0 P6 P5 P4 P2 are all available

Generally it is 2-5 days if in stock, 15-30 days if not in stock, it is according to the quantity

PE bag+paper box+outer carton+wooden box+pallet, or as customers' requirement

Long life with high quality

High precision, low noise with strict controlling of the quality

High-loading by the advanced high-technical design

Most competitive price,  factory direct

OEM service offered, to meet the customers' requirement

Motor, conveyor, forklift, mining machinery, rolling mill,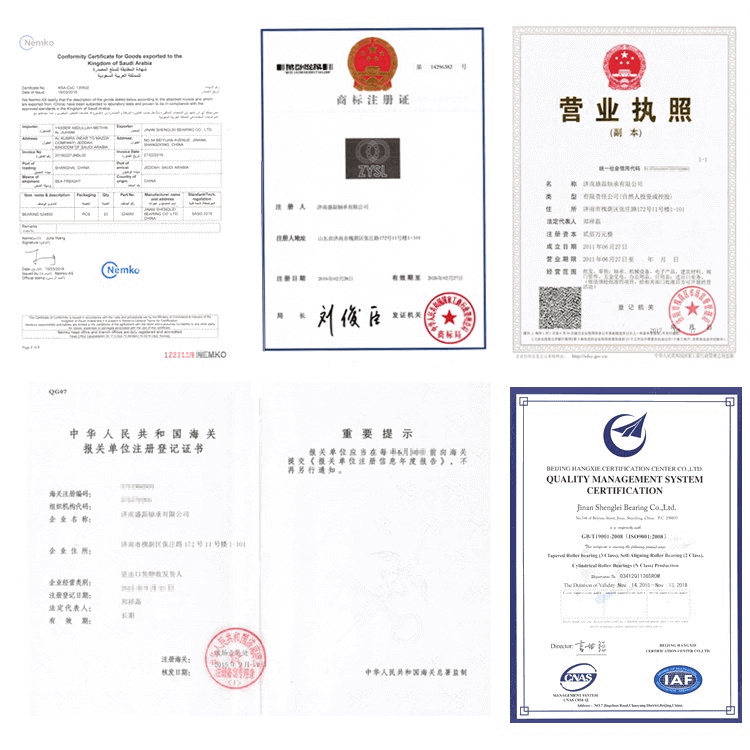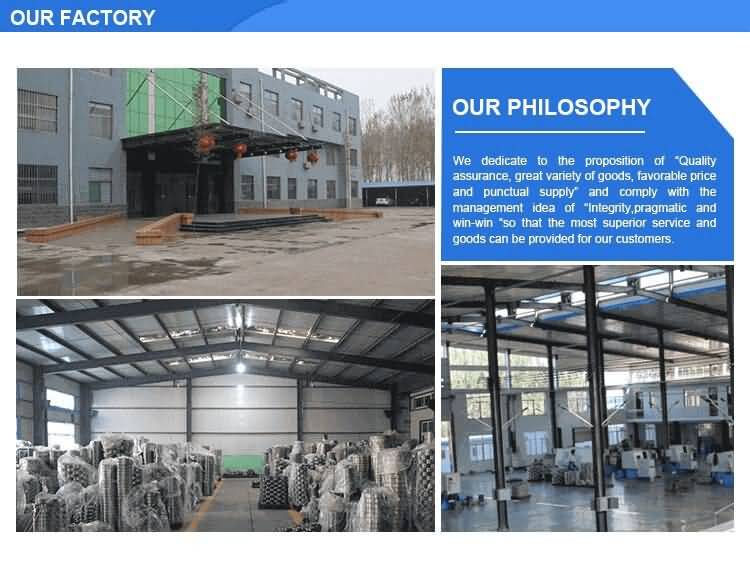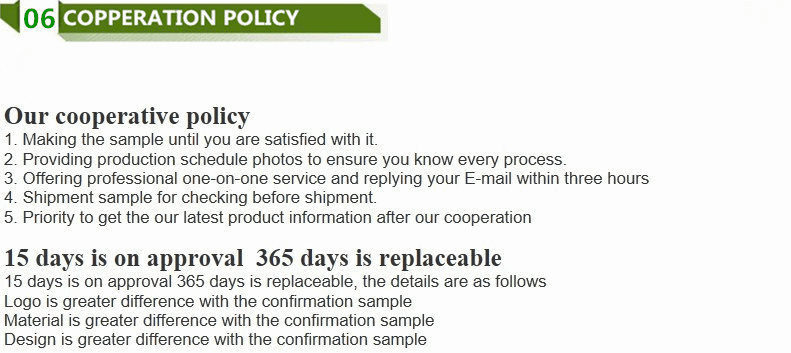 FAQ 
1. I couldn't find a design to fit my application in your catalog. Can you help me design a bearing
Yes, technical expertise is available to assist you with engineering design for custom products. Available options include, but are not limited to, custom rings, retainers, balls, shields, lubricants, and packaging. We look forward to working with you to satisfy your rotary motion requirements.
2. What causes bearing noise
Bearing noise is a function of both the bearing and the way it is used. Some external factors that affect bearing noise include lubricant type, excessive bearing load, and improper installation. Once the abnormal noise occurred, you can contact our engineers, we will help you find the reasons and provide the appropriate solutions.
3.  How long is your delivery term
Our standard product delivery term is normally 30 days. A new product development cycle is 60 days in normal. Under normal circumstances, there are standing stock for regular types. You can email us to learn more details.
4.  Where is your port of shipment located
Our main port of shipment is Guangzhou port, and we may operate at other ports if required by the customer.
If you need the any brands or any models of bearings,please contact me!
Contact: Miya
Email: [email protected]
Skype: [email protected]

MP/Whatsapp: +86 18363031398