More details of bearing sizes you don't know, please check it
Tapered Roller Bearings bearing sizes
structure
The design of the tapered roller bearing(bearing sizes)is that the raceway surface of the inner ring and the outer ring and the apex of the roller cone are gathered at a point on the central axis of the bearing. When the radial load acts on the main city, axial force components are generated. Therefore, it is necessary to use two bearings facing each other, or as paired double bearings and double row bearings. bearing sizes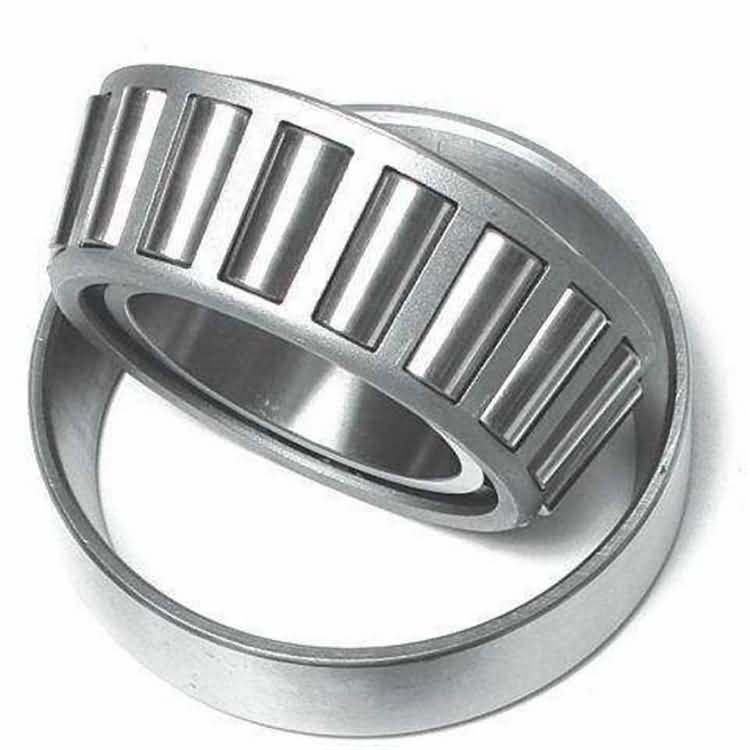 About the bearing sizes
In addition to the metric series, the tapered roller bearing also includes the inner ring assembly and the outer ring of the inch series bearing, each having a code. Installation-related dimensions of tapered roller bearings are described in relation to dimensions, catalogs and bearing dimensions. The cage of the tapered roller bearing protrudes from the side of the ferrule. In designing the shaft and housing, pay full attention. bearing sizes
In addition, when the axial load is large, it is necessary to sufficiently support the shoulder size and strength of the inner ring rib portion.
Models and bearing sizes:
Dimensions




(mm)

Basic load ratings




(kN)

Cone

Cup

Mass




(Kg)

Bearing No.

d

D

T

Cr

Cor

B

R

C

r

(Approx.)

NO

ISO 355

17

40

13.25

20.5

20.3

12

1

11

1

0.08

30203

T2DB017

20

47

15.25

28.2

28.7

14

1

12

1

0.127

30204

T2DB020

30

72

20.75

48.5

51.5

19

1.5

14

1.5

0.398

31306

T7FB030

35

80

22.75

63.5

70.0

21

2

15

1.5

0.530

31307

T7FB035

40

90

25.25

77.0

85.5

23

2

17

1.5

0.738

31308

T7FB040

55

120

31.5

132

154

29

2.5

21

2

1.59

31311

T7FB055

65

140

36

173

204

33

3

23

2.5

2.42

31313

T7GB065

70

150

38

193

229

35

3

25

2.5

2.92

31314

T7GB070

75

160

40

215

256

37

3

26

2.5

3.47

31315

T7GB075

80

170

42.5

236

283

39

3

27

2.5

4.11

31316

T7GB080

85

180

44.5

247

293

41

4

28

3

4.85

31317

T7GB085

90

190

46.5

270

320

43

4

30

3

5.66

31318

T7GB090

95

200

49.5

296

355

45

4

32

3

6.47

31319

T7GB095

100

215

56.5

355

435

51

4

35

3

8.67

31320

T7GB100

17

40

17.25

27.3

28.3

16

1

14

1

0.102

32203

T2DD017

20

47

19.25

36.5

39.5

18

1

15

1

0.16

32204

 

25

52

19.25

42.0

47.0

18

1

16

1

0.187

32205

T2CD025

30

62

21.25

54.5

64.0

20

1

17

1

0.301

32206

T3DC030

35

72

24.25

72.5

87.0

23

1.5

19

1.5

0.457

32207

T3DC035

40

80

24.75

79.5

93.5

23

1.5

19

1.5

0.558

32208

T3DC040

45

85

24.75

82.0

100

23

1.5

19

1.5

0.607

32209

T3DC045

50

90

24.75

87.5

109

23

1.5

19

1.5

0.648

32210

T3DC050

55

100

26.75

108

134

25

2

21

1.5

0.876

32211

T3DC055

60

110

29.75

130

164

28

2

24

1.5

1.18

32212

T3EC060

65

120

32.75

159

206

31

2

27

1.5

1.58

32213

T3EC065

70

125

33.25

166

220

31

2

27

1.5

1.68

32214

T3EC070

75

130

33.25

168

224

31

2

27

1.5

1.74

32215

T4DC075

80

140

35.25

199

265

33

2.5

28

2

2.18

32216

T3EC080

85

150

38.5

224

300

36

2.5

30

2

2.75

32217

T3EC085

90

160

42.5

262

360

40

2.5

34

2

3.49

32218

T3FC090

95

170

45.5

299

415

43

3

37

2.5

4.3

32219

T3FC095

100

180

49

330

465

46

3

39

2.5

5.12

32220

T3FC100

32

75

29.75

84.0

102

28

1.5

23

1.5

0.659

323/32X

 

20

52

22.25

46.5

48.5

21

1.5

18

1.5

0.245

32304

T2FD020

25

62

25.25

61.5

64.5

24

1.5

20

1.5

0.381

32305

T2FD025

30

72

28.75

81.0

90.0

27

1.5

23

1.5

0.583

32306

T2FD030

35

80

32.75

101

115

31

2

25

1.5

0.787

32307

T2EE035

40

90

35.25

122

150

33

2

27

1.5

1.08

32308

T2FD040

45

100

38.25

154

191

36

2

30

1.5

1.46

32309

T2FD045

50

110

42.25

184

232

40

2.5

33

2

1.92

32310

T2FD050

55

120

45.5

215

275

43

2.5

35

2

2.44

32311

T2FD055

60

130

48.5

244

315

46

3

37

2.5

3.02

32312

T2FD060

65

140

51

273

350

48

3

39

2.5

3.66

32313

T2GD065

70

150

54

310

405

51

3

42

2.5

4.46

32314

T2GD070

75

160

58

355

470

55

3

45

2.5

5.35

32315

T2GD075

80

170

61.5

395

525

58

3

48

2.5

6.41

32316

T2GD080

85

180

63.5

405

525

60

4

49

3

7.15

32317

T2GD085

90

190

67.5

450

595

64

4

53

3

8.57

32318

T2GD090

95

200

71.5

505

670

67

4

55

3

10.1

32319

T2GD095

100

215

77.5

570

770

73

4

60

3

12.7

32320

T2GD100

55

80

17

44.5

73.5

17

1

14

1

0.274

32911

 

60

85

17

51.0

83.0

17

1

14

1

0.296

32912

 

65

90

17

48.5

85.0

17

1

14

1

0.315

32913

 

70

100

20

68.5

110

20

1

16

1

0.487

32914

 

75

105

20

69.5

114

20

1

16

1

0.511

32915

 

80

110

20

72.0

121

20

1

16

1

0.54

32916

 

85

120

23

94.0

157

23

1.5

18

1.5

0.773

32917

 

90

125

23

97.5

168

23

1.5

18

1.5

0.817

32918

 

95

130

23

101

178

23

1.5

18

1.5

0.851

32919

T2BC095

100

140

25

121

206

25

1.5

20

1.5

1.14

32920

 

40

75

26

79.5

103

26

1.5

20.5

1.5

0.494

33108

T2CE040

45

80

26

84.5

115

26

1.5

20.5

1.5

0.542

33109

T3CE045

50

85

26

86.5

121

26

1.5

20

1.5

0.58

33110

T3CE050

55

95

30

111

155

30

1.5

23

1.5

0.846

33111

T3CE055

60

100

30

113

164

30

1.5

23

1.5

0.912

33112

T3CE060

65

110

34

144

211

34

1.5

26.5

1.5

1.28

33113

T3DE065

25

52

16.25

31.5

34.0

15

1

13

1

0.154

30205

T3CC025

30

62

17.25

43.5

48.0

16

1

14

1

0.241

30206

T3DB030

35

72

18.25

55.5

61.5

17

1.5

15

1.5

0.344

30207

T3DB035

40

80

19.75

61.0

67.0

18

1.5

16

1.5

0.435

30208

T3DB040

45

85

20.75

67.5

78.5

19

1.5

16

1.5

0.495

30209

T3DB045

50

90

21.75

77.0

93.0

20

1.5

17

1.5

0.563

30210

T3DB050

55

100

22.75

93.0

111

21

2

18

1.5

0.74

30211

T3DB055

60

110

23.75

105

125

22

2

19

1.5

0.949

30212

T3EB060

65

120

24.75

123

148

23

2

20

1.5

1.18

30213

T3EB065

70

125

26.25

131

162

24

2

21

1.5

1.26

30214

T3EB070

75

130

27.25

139

175

25

2

22

1.5

1.41

30215

T4DB075

80

140

28.25

160

200

26

2.5

22

2

1.72

30216

T3EB080

85

150

30.5

183

232

28

2.5

24

2

2.14

30217

T3EB085

90

160

32.5

208

267

30

2.5

26

2

2.66

30218

T3FB090

95

170

34.5

226

290

32

3

27

2.5

3.07

30219

T3FB095

100

180

37

258

335

34

3

29

2.5

3.78

30220

T3FB100

15

42

14.25

23.2

20.8

13

1

11

1

0.098

30302

T2FB015

17

47

15.25

28.9

26.3

14

1

12

1

0.134

30303

T2FB017

20

52

16.25

35.5

34.0

16

1.5

13

1.5

0.176

30304

T2FB020

25

62

18.25

48.5

47.5

17

1.5

15

1.5

0.272

30305

T2FB025

30

72

20.75

60.0

61.0

19

1.5

16

1.5

0.408

30306

T2FB030

35

80

22.75

75.0

77.0

21

2

18

1.5

0.540

30307

T2FB035

40

90

25.25

91.5

102

23

2

20

1.5

0.769

30308

T2FB040

45

100

27.25

111

126

25

2

22

1.5

1.01

30309

T2FB045

50

110

29.25

133

152

27

2.5

23

2

1.31

30310

T2FB050

55

120

31.5

155

179

29

2.5

25

2

1.66

30311

T2FB055

60

130

33.5

180

210

31

3

26

2.5

2.06

30312

T2FB060

65

140

36

203

238

33

3

28

2.5

2.55

30313

T2GB065

70

150

38

230

272

35

3

30

2.5

3.06

30314

T2GB070

75

160

40

255

305

37

3

31

2.5

3.57

30315

T2GB075

80

170

42.5

291

350

39

3

33

2.5

4.41

30316

T2GB080

85

180

44.5

305

365

41

4

34

3

5.2

30317

T2GB085

90

190

46.5

335

405

43

4

36

3

6.03

30318

T2GB090

95

200

49.5

365

445

45

4

38

3

6.98

30319

T2GB095

100

215

51.5

410

500

47

4

39

3

8.56

30320

T2GB100

25

62

18.25

40.5

43.5

17

1.5

13

1.5

0.284

31305

T7FB025
If you need any brands or any models of bearings, please contact me!
Contact: Miya
Email: ntn@zyslbearing.com
Skype: ntn@zyslbearing.com
MP/Whatsapp: +86 18363031398