Polyamide (nylon 66) nylon bearings cage
Nylon bearings cage type: solid cage (injection molding method);
Material : Polyamide (Nylon 66);
Advantages Performance: Polyamide nylon material has the advantages of large elasticity and light weight. This cage has very good sliding and self-lubricating properties. Particularly suitable for vibration shock stress or high acceleration and deceleration or when the bearing inner and outer rings appear inclined to each other;
Use restrictions:
(1) Polyamide nylon bearings cages may be affected by special lubrication (corrosive additives in lubricants)
(2) It cannot be used in vacuum because it will become brittle due to dehydration;
Operating temperature: Operating temperature less than 120°C Greater than -40°C Low temperatures can cause the nylon bearing retainer to lose its elasticity.
Most cast molded cages use nylon 6,6. This material, with or without glass fiber reinforcement, is characterized by a good combination of strength and elasticity. The mechanical properties of nylon materials such as strength and elasticity depend on the temperature and are subject to permanent changes depending on the operating conditions and become aged. The most important factors that play a role in this aging behavior are temperature, time, and the medium (lubricant) that is contacted. The aging relationship of glass fiber-reinforced nylon 6,6 The shelf life is shortened as the temperature rises and the aggressiveness of the lubricant.
Therefore, the nylon bearings cage is suitable for a specific purpose, depending on the operating conditions and life requirements.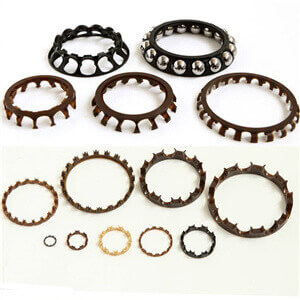 Some media are more "corrosive" than those listed in Table 18. A typical example is ammonia used as a refrigerant in compressors. In these cases, the cage made of glass fiber reinforced nylon 6,6 should not be used for more than
In terms of low operating temperatures, a limit is also set because nylon loses its elasticity and may cause the cage to fail. Therefore, cages made with glass fiber reinforcement should not be used at continuous operating temperatures below 40 degrees Celsius.
In situations where extreme conditions are a major factor, such as railway axle boxes, an improved nylon 6,6 with superior toughness is used.
Nylon 4,6
Glass fiber reinforced nylon 4,6, this cage allows the operating temperature to be 15 degrees higher than the glass fiber reinforced nylon 6,6 cage.
PEEK
Glass fiber reinforced PEEK is suitable for demanding situations such as high speeds, chemical reactions or high temperatures. PEEK's superior features are excellent bonding, high operating temperature range, high chemical and abrasion resistance, and good processability. Due to these outstanding advantages, PEEK cages can be used for certain cylindrical roller bearing standard cages, such as hybrid and/or high-precision bearings. The material does not show signs of aging due to temperature and oil additives up to +200 degrees Celsius. However, the maximum temperature for high speed use is limited to +150 degrees Celsius, because this is the softening temperature of nylon.
There are also full nylon bearings available in our company.
If you need any nylon bearings or other specifications of bearings,please contact me any time!