In order to better understand the specific terminology of commonly used plain bearings and rod end joint bearing, the definitions of spherical plain bearings and rod end joint bearings are listed in Figures 1 and 2, respectively.
Spherical plain bearing
1 outer ring
2 sliding contact surface
3 seals
4 inner ring
5 lubrication holes
6 lubrication groove

Spherical plain bearings are standardized, fast-fit mechanical components that can withstand self-aligning motion in multiple directions. The inner ring has a convex ball outer diameter surface, and the outer ring has a corresponding concave ball inner diameter surface. The forces acting on the bearings may be static or may occur during relatively low speed reciprocating or periodic tilting motion of the bearings.
rod end joint bearing
1 spherical plain bearing
2 rod end joint bearing
2a Rod end joint housing
2b Rod end joint bearing rod with external (male) thread.
The bearing rods can also be supplied with internal (female) threads or with welded rods.

3 grease fixing
The spherical plain bearing rod end joint bearing is a bearing unit composed of a spherical plain bearing on the eye tip of the rod end joint bearing seat. They are mainly used for hydraulic or pneumatic pistons, which are connected to a related component (bearing design and features) by internal (female) threads, external (male) threads or welded rods.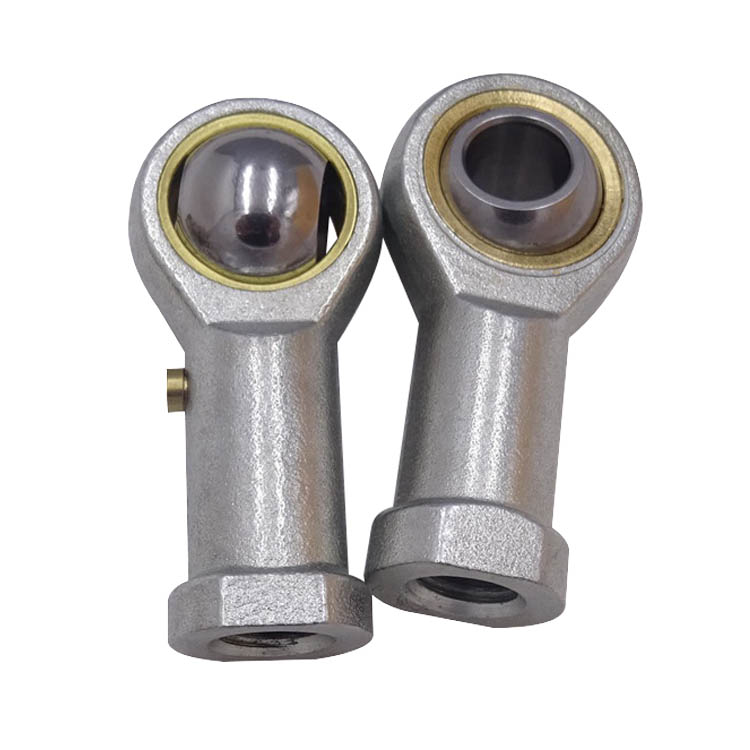 There are several types of rod end joint bearing repairs.
Regular maintenance: In order to ensure the normal operation of the host, according to the request of the host and the design theory and application experience of the bearing, set a maintenance cycle and regular maintenance.
Fault repair: stop inspection and maintenance when the bearing is in trouble.
Early warning maintenance: Apply advanced bearing fault diagnosis technology, stop the real-time monitoring of the bearing operation status, and make advance notice before the bearing attack, stop maintenance.