Why customers like the self lubricating bearing?Let's learn about the advantages!
Oil-free self lubricating bearing series
1, no oil self lubricating or less oil lubrication, suitable for places that can not be refueled or difficult to refuel, can be used without maintenance or less maintenance.
Self lubricating bearing
Self lubricating bearing
2. Self lubricating bearing have good wear resistance, low friction coefficient and long service life.
3, self lubricating bearing have the right amount of elasticity, can distribute the stress on the wider contact surface, improve bearing bearing capacity.
4, self lubricating bearing static friction coefficient is similar, can eliminate the crawl at low speed, thus ensuring the mechanical working accuracy.
5, self lubricating bearing can make machinery to reduce vibration, reduce noise, prevent pollution, improve working conditions.
6, self lubricating bearing can form a transfer film during operation, play a role in the protection of the grinding shaft, no bite axis phenomenon.
7, self lubricating bearing for the grinding shaft hardness requirements are low, can not use the shaft without quenching and tempering, thereby reducing the processing of related parts.
8, self lubricating bearing thin-walled structure, light weight, can reduce the mechanical volume.
9, self lubricating bearing steel can be plated on the back of a variety of metals, can be used in corrosive media; has been widely used in various mechanical sliding parts, such as: printing presses, textile machines, tobacco machinery, micro-motors, automobiles, motorcycles and Agriculture and forestry machinery and so on.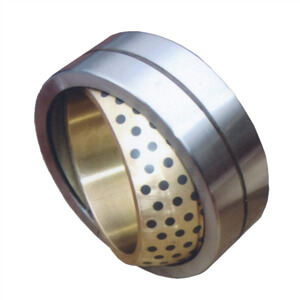 Boundary self lubricating bearing series
1. Bearings with self lubricating boundary are well loaded and have good wear resistance.
2. Boundary self lubricating bearing is suitable for rotating, rocking, and frequent opening and closing under load to avoid the formation of hydrodynamic lubrication.
3. The boundary self lubricating bearing can be maintained without lubrication for a long time under the condition of boundary lubrication, while refueling in the over-layer can make the bearing life longer.
4. Self lubricating bearing on the boundary The plastic layer on the bearing surface can leave a certain margin during processing and molding. After the assembly is pressed into the seat hole, it can be processed by itself to achieve a better assembly size.
5. Boundary self lubricating bearing products are mainly used in automotive chassis, metallurgical machinery, mining machinery, water conservancy machinery, construction machinery, agricultural machinery, steel rolling equipment and so on.
JDB Solid Inlaid Bearing Series
JDB solid-inlaid series self lubricating bearing is universal basic products and can adapt to high pressure, low pressure, high temperature, low temperature, oil lubrication, no oil lubrication, or water lubrication. The base of the product is high-strength brass, which doubles the hardness of the copper sleeve and doubles the wear resistance.
JDB solid embedded series self-lubricating bearing is widely used in: light industrial machinery, heavy industry machinery, construction machinery, metallurgical machinery, conveying machinery, etc., such as: continuous casting machines, rolling mills, injection molding machines, paper machines, die guide columns, ships, machine tools, etc. .
If you need the self lubricating bearing or other specifications of bearings,please contact me any time!
Contact: Miya
Email:ntn@zyslbearing.com
Skype: ntn@zyslbearing.com
MP/Whatsapp: +8618363031398
Wechat:18363031398