How try  to avoid the dangerous of wheel bearing damage?
After the damage of the automobile wheel bearing, the continuous rubbing collision sound from the corresponding position of the chassis wheel will be transmitted from the corresponding position of the chassis wheel. Usually the abnormal friction between the brake hub and the brake pad will greatly increase the driving resistance, and the wheel will be damaged when serious. The mechanism caused the hub to fall off, causing serious traffic accidents.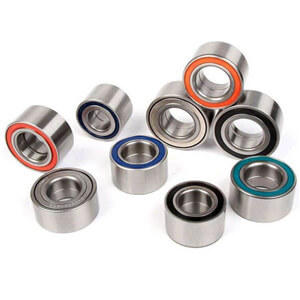 When the hub wheel bearing is damaged, the brake drum should be removed to check if the bearing is defective. When performing maintenance, remove the wheel, use a screwdriver to remove the dust cover, remove the locking pin on the idler nut by using a pair of pliers, turn the brake drum with one hand, and tighten the nut with a wrench to tighten the nut. When there is noticeable drag and friction at the wheel bearing, slowly loosen the nut until it aligns with the nearest open pin hole, and insert a new split pin (It is worth noting that in any case Loosen the nuts by one-fourth turn, otherwise the hub bearings will loosen and cause early wear. After inserting the split pin, the end should also be bent away to prevent it from falling off. Finally, snap the dust cover back to the brake drum and put it back on the wheel. Hold the wheel up and down to allow a little play.
If there is serious damage to the hub wheel bearing, there must be a crack, pit, or ablation above it and it must be replaced. Grease the new wheel bearing and install it in the reverse order. The replacement wheel bearing must be flexible and free from miscellaneous and vibration.
If you have any questions about the bearings, please contact me, these are my contact information:
Contact:Miya
Email: ntn@zyslbearing.com
Skype: ntn@zyslbearing.com
MP/Whatsapp: +8618363031398
Wechat:18363031398